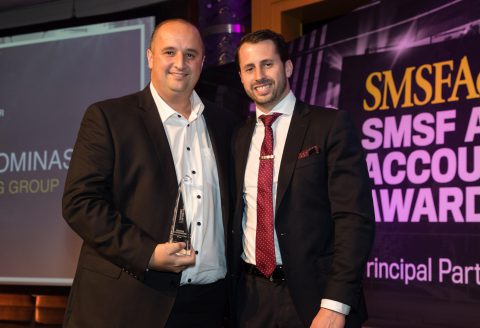 George Kontominas the Principal Accountant at Dendra Accounting Group, has won the 2017 Accounting Award for Partner of the Year in Victoria.
The SMSF Accounting Awards is the first state-wide industry awards program recognising excellence in the SMSF (Self Managed Super Fund) accounting and consulting professions, judged on state-based performance criteria.
These awards acknowledge individuals and businesses providing leading accounting and consulting services in their state, while maintaining the highest standards of professionalism, as well as bringing innovation to their service offering.
The Judging panel for the SMSF & Accounting awards includes top academics in the field of Accounting from leading Universities including RMIT, Macquarie & Deakin University, as well as industry thought leaders and top executives in the Finance and Accounting Industry in Australia.
Speaking after receiving the award for Partner of the Year, George Kontominas acknowledged his colleagues and lauded their contribution to the progressive culture that he has built at his firm Dendra Accounting Group.
"I'm proud to be acknowledged as the Partner of the Year, and for building and leading such a strong team of experienced practitioners and enthusiastic graduates who value the fact that the processes and procedures we use to help our client's differ significantly from the way typical accounting firms do things" he said.
Dendra are different to the average accounting firm because they use an innovative team based approach to account management, which means their entire team of accountants collaborate with each other to brainstorm client accounts. This means clients don't just get one accountant, they get a team that includes specialist from different fields collaborating on their account, identifying every possible angle or advantage that can be used to benefit their situation.
This team based account management approach sets Dendra apart from every other Melbourne accountant, and helped them produce some.exceptional results for their clients in 2017.
This team based account management approach sets Dendra apart from every other Melbourne accountant, and helped them produce some.exceptional results for their clients in 2017.
Musing about the journey from opening the firm doors till now, Kontominas said "Back in 2002 when I stepped out on my own, my main reason for doing so was because I didn't like the way that clients were treated by typical Accounting firms, that is, like a number. At that time, I was working for a second tier accounting firm and I felt my work was factory like, there was no innovation, no room for personalisation, and as a result the best I could do was produce mediocre outcomes.  I didn't go through 6 years of higher education just to treat people's financial situations like components in a production line. I wanted the freedom to use my skills to really help people, which is what drove me to take the plunge to step out on my own and build the unique culture we now have at Dendra."
"I'm so proud to be acknowledged with this award, it feels like the completion of a journey and a vindication for standing for something better" he said.
"At Dendra, we are not your typical run of the mill compliance accountants. I encourage my entire team to learn more about the ins and outs of our client's situation, and then analyse their processes to help them find greater efficiency and better ways of achieving their goals.
"To my team I say thank you for being such a dynamic, pro-active and forward-looking team of accountants, people that strive to stay ahead of technology and that value innovation and creative thinking, which we are constantly applying to our own and our clients' businesses, to create improved performance and productivity, and most importantly, above average growth in our client's businesses and investments".